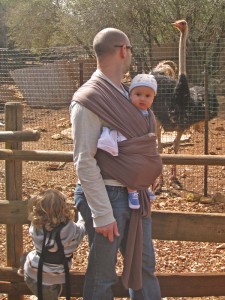 Well I think that's a pretty impressive statement for a just-turned-two-year-old. I mean he gets the see/sea differentiation which is great. And he remembers his experiences. Our weekly excursions are going down really well with Jojo and each week is exciting as we get out a guidebook or leaflet or go online and find some random place to spend our friday. Living in Karmiel is a great spot for general sighseeing – drive 20 mins in any direction and there is something scenic and/or historic. Two weeks ago we took a trip to Tel Hatzor to see some ancient ruins, where a lovely volunteer showed us around. The grounds have been the sight of both Canaanite and King Solomon's Palace and there were enough puddles to keep Jojo amused. Still can't get used to doing tiyulim in February, sans coat and hat. Total luxury.
Last week we chose Yodefat as our destination. We have visited the cafe there before but this time we wanted to see the Monkey Forest. Perfect toddler hike, lots of sufficiently bizarre creatures to keep us all amused, rocky paths to clamber on, chickens and peacocks to chase, ducks to talk to and a monkey family having a de-fleaing session that bore a striking reminder to our nit episode. Jojo was in his element, learning lots of new animal names in both languages and chicken spotting.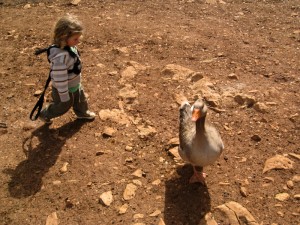 Yaron smiled in his sling for 2 hours, we think he will be a nature buff 😉  I was surprised at the random collection of creatures… they had domesticated animals [sheep etc – and some very gloomy donkeys] and more wild things. I have often wondered what on earth was God thinking when he created the Ostrich? Did he just have some leftover parts to use up? "Well I've got these feathers, and this long neck and these big old feet lets just slapp it all together…. hmm let me see….. well it's not pretty but lets see how it copes on land…." or something like that.
Yodefat is, essentially hippysville. A couple of Israeli friends  have told me I would fit right in there with my green parenting and my love of all things natural. I am not sure I want to live with 400 hundred people just like me. Anyhow, besides the fabulous monkey forest,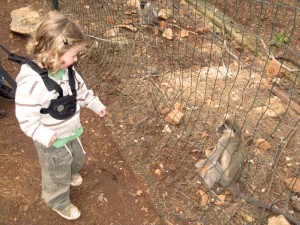 the kibbutz has lovely views, a shop [which we can never find] and a vegetarian cafe which also sells greeny-type things such as natural birthing books, homemade biscuits, wooden toys, good massage oils and joy of joys toothpastes without crap in them.
I imagine we will be making a lot more trips there in the future, I am dead  proud my 2 year old knows what a porcupine looks like. And he can say it too.